The Business Process Automation Guide You Need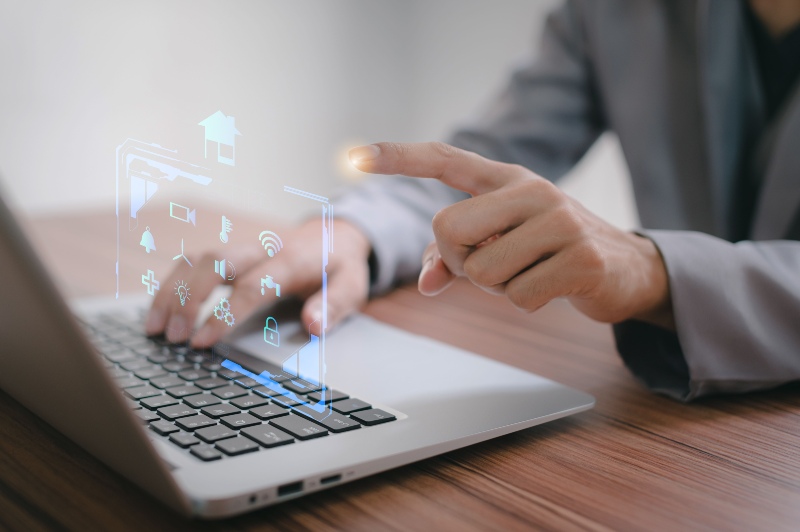 Automating activities and digital transformation are phrases that may make some think the robots are taking over. But we are far from that possibility…for now.
On a serious note, to get ahead of competition and stay relevant in this ever-changing global village, your business needs to look to digitisation.
So, how do you start?
Business Process Automation is an excellent place to start. We're going to cover everything you need to know about Business Process Automation and how you can use it to improve your business.
What Is Business Process Automation
Business Process Automation (BPA) is the automation of business processes using advanced technology. The goal is to have software execute tasks behind the scenes without human intervention.
Business Process Automation aims to increase efficiency in operations and reduce the time employees spend doing repetitive activities, giving them more time for critical work.
BPA can be confused with other process improvement concepts such as Business Process Management. So, let's clear that up.
What is Business Process Management
Business Process Automation is an element of Business Process Management (BPM). BPM is a structured approach aimed to improve all the processes in an organisation, whereas BPA focuses on replacing the manual processes in day-to-day tasks with automation.
Types of Business Process Automation
There are many ways to use automation in business. To better understand what best suits your organisation, you need to know the different types. The following are the types of Business Process Automation:
Basic Automation: This involves the elimination of manual tasks within a process; for example, capturing signatures in an approval process.
Workflow Automation: This is about automating specific tasks, as well as all the workflows that make up the process to provide standardisation; for example, automation of the processes within leave management to ensure transparency and efficiency.
Robotic Process Automation: This involves the automation of a repetitive task that requires the same action every time; for example, the processing of customer orders on an e-commerce site.
Intelligent Automation: This is combining AI and machine learning with all the types listed above to achieve improved decision making; for example, guiding customers through the onboarding process.
Do You Need Business Process Automation?
Moving towards digitised processes can help give your organisation a competitive edge, but it requires a lot of effort to plan and execute. Is it worth it?
Signs That You Need Business Process Automation
There are some tell-tale signs that BPA is required in your organisation. Here's some questions to ask yourself:
Is too much time being spent on meetings when that time could be used for more critical tasks?
Are there multiple people required to execute a few tasks?
Are there time consuming repetitive manual tasks in your core or supporting processes?
Do documentation processes take too long?
Are there duplicated tasks across numerous workflows?
Are there manual tasks in a time-sensitive process that could be sped up by automation?
Do you have outdated workflows?
Will employees' performances be improved through automated processes?
Are there too many points of communication in simple tasks?
Are compliance and audit trails time consuming to achieve?
If the answer is yes to any of the above questions, then you definitely require Business Process Automation.
Why You Need Business Process Automation
We asked some vital questions above. But how do they relate to BPA? Below are some reasons on why you need Business Process Automation in your company:
Digital Transformation: This can seem like a supercharged phrase, but BPA provides a good starting point for your business to scale towards a more digital environment.
Standard processes: Having standardisation makes processes more efficient and transparent, which in turn makes your business more attractive in comparison to your competition.
Ease with auditing: You must record your workflows in documentation when you're in the process of implementing BPA; this will make audits go smoother as the documentation will be readily available.
Customer is King: Becoming more efficient and improving productivity will result in consistent delivery of high quality services and products, in turn increasing customer satisfaction.
Benefits of Business Process Automation
Besides what we mentioned above, there are even more advantages to introducing Business Process Automation to your organisation:
Improve operational performance
Reduction in operation costs
Improved customer service
Employee satisfaction
Reduction in errors and delays
Insights on customer behavior
More predictability in processes
Better collaboration between departments
Operational KPIs are easier to report on
Faster decision-making in critical areas
Simply put, the larger your organisation and or the more steps and or people involved in your processes, the more important automation and workflow management becomes.
Choosing Business Process Automation Software
Business Process Automation Software is the solution used to plan and implement the automations.
There is no one-size-fits-all software that can work for all processes. The software should be built specifically for your needs and specifications of your processes.
Here are some aspects to look out for when deciding on and implementing Business Process Automation Software in your business:
Unique to your business: The software needs to be designed for your processes and not what is trending in the industry.
Easy to integrate: The software should integrate with your processes; usage of multiple solutions will overcomplicate your processes.
Upholds policies: The software should uphold compliance laws and protect the data being used.
Mobile friendly: Where appropriate, the software should be mobile friendly to ensure employee satisfaction and efficiency.
Speedy: The software should load quickly and operate at optimal speed to reap quick turnaround times.
Business Process Automation Examples
To help you with how you can implement Business Process Automation in your business, we've laid out some examples in key Business Areas:
Finance and Accounting:

Data capturing using invoices
Digital forms for expense claims
Scheduled data backups

Marketing and Sales:

Scheduling posts for social media
Automated email replies
System that qualifies leads

Human Resources:

Recruitment Forms
Scheduled employee shifts
Automation of employee onboarding

Operations:

Reporting documents
File transfers
Work order forms

Supply Chain:

Purchase order forms
Inventory tracking
Price quotes automation

Customer Support:

Streamlined ticket system
Automated Help Desk replies
Chatbots
How your Business could use Business Process Automation
You could use the above examples to help narrow down how to improve your business. But the key to optimising your business using BPA is knowing what areas to target.
Your business' core processes (Marketing, Operations, Customer Service, etc.) will depend on the type of business but it definitely should be at the top of your list of areas to start with.
Your support processes (IT, HR, Finance, etc.) will follow closely in priority since these processes provide the necessary support for operating successfully.
Another area to look at would be if you have long processes in your organisation that can impact your business significantly if it was improved. For example, the introduction of a Customer Relationship Management System to improve customer service.
How To Implement Business Process Automation
We're going to break down the high level stages needed to implement Business Process Automation successfully. Phases and decisions will differ per business but these steps below are necessary to begin with.
Steps To Implementing Business Process Automation
1. Identify
Start by looking at each area in your business and locate where improvements can be made. Then make a list of those areas.
2. Document
Next, you must document all the steps and processes involved in each area to properly analyse and understand the operations.
This requires thorough process mapping and assistance from the employees so that you don't miss anything. You want to ensure the software that is developed with user experience in mind.
The details you require in each process are tasks, employees responsible, and when tasks are executed.
3. Spot The Repetition
Time to single out the repetitive, manual tasks and other automation opportunities. Use a scorecard for each and document them according to priority.
The scorecard should take into account the following to start with:
Customer impact
Employee satisfaction
Business growth
4. Specifications
Define your goals for the items on your priority list. Put together the requirements that will enable you to meet those goals to make implementation that much smoother.
5. Ask for assistance
Find a knowledgeable and experienced software company to build the software and configure it in your business.
This software development team should be able to collaborate with you effectively to help you reach your end goal.
At Co-Foundry, we build custom software that can fit your business like a glove, but more on that below!
6. Take Your Time
You will not see your desired optimisation immediately as ROI will take time to show effect.
Also, the employees will need training and time to adapt to the process. You need to ensure a straightforward transition. We recommend you work on a change management and training plan with your chosen software company.
7. Maintenance and Support
Your chosen software development partner will provide the necessary support and maintenance on the Business Process Automation software so any bugs and issues can be resolved swiftly.
Our Expertise
Business Workflow Management:
Co-Foundry is experienced in building software that cater for Business Workflow Management.
Automating a workflow is all about using software to streamline time-consuming, manual tasks. Your employees shouldn't carry out repetitive tasks that computers can do better, faster, and with fewer errors.
Furthermore, you shouldn't have to suffer the impact of "dropped-balls" when your company process gets forgotten about, skipped, or entirely changed. Workflow Management and Process Automation is about keeping your success proven actions in place!
Benefits of Business Workflow Management
Business Workflow automation can help your business reap many benefits, including:
Reduce paperwork
Save time and costs on monitoring and reporting
Smoother onboarding process
Build a better relationship with customers through trust and reliability
Optimise simple tasks
Examples of Business Workflow Management
Centralised location for document management
Process flow management where multiple people need to be involved in a process, for quality control, approvals, billing, etc
Automation of communications based on service completed such as emailing the client when their service has been completed and is ready for collection
Integration between one system and another, such as the operations or project management tool with the accounting tool to automatically issue an invoice when the service has been completed
What To Do Next
It's now time to take the leap towards digitisation and free up your employees to do what they're best at: helping grow your business creatively.
Until the far future when AI takes over, you are safe to pursue your automation dreams.
The journey to Business Process Automation starts with the first step…contact us! We would be happy to help you achieve your automation goals.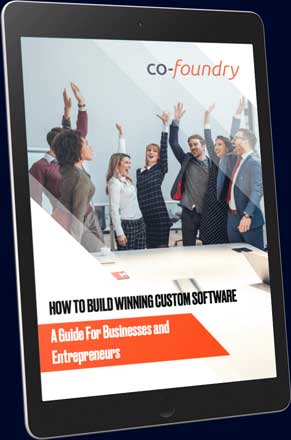 Want Help With Your Software Project?
Get Our Free Ebook: How to Build Winning Custom Software – A Guide For Businesses and Entrepreneurs
By subscribing, you agree to get emails from Co-Foundry. We'll respect your privacy and you can unsubscribe at any time.