What Your Business Website Will Cost You and Why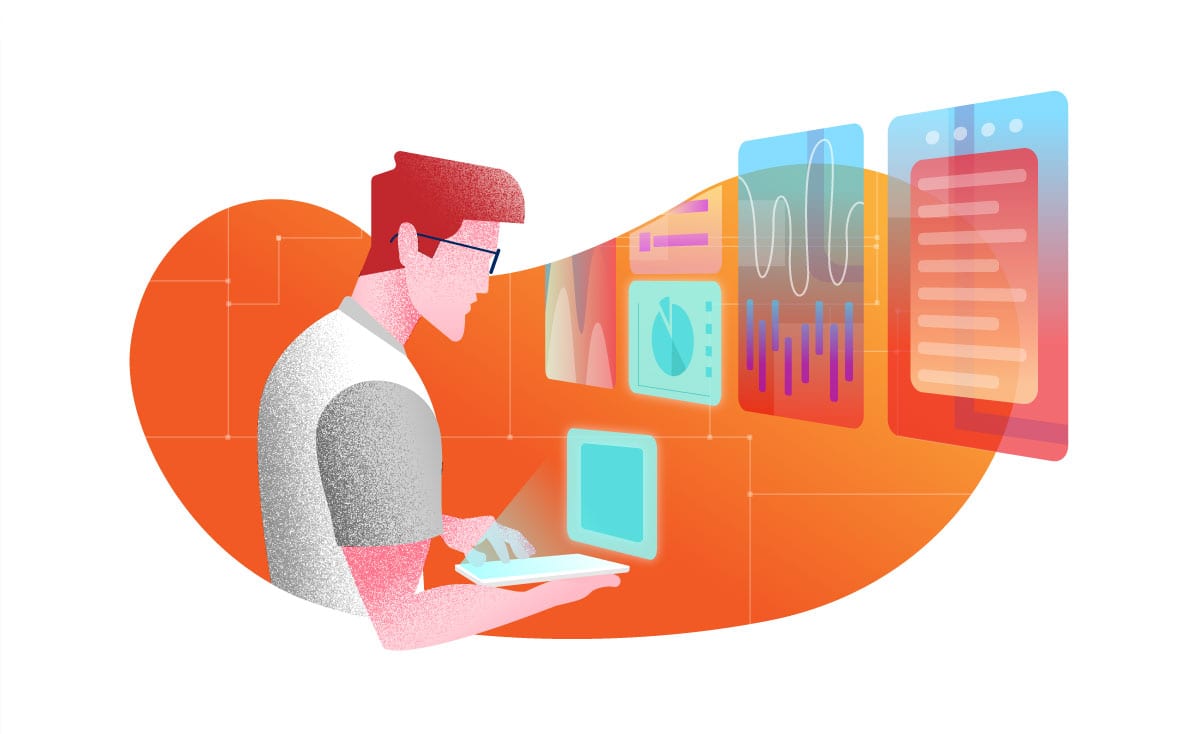 In an increasingly online business world, your business website is not only an extension of your business or brand, as far as the internet is concerned, it IS your brand AND your business.
Websites can now do so much more than just act as online brochures. They can literally integrate and interact with any aspect a business, automate functions, generate leads and optimize content and productivity for users, clients, and staff.
When a client or customer first finds your company online they expect your site to load fast and work perfectly. Even though users don't consciously think this, what's the first thing you do on a new site when you find it really slow or glitchy? You leave.
A great user experience can have a huge impact on the success of your site in generating sales and bolstering your business both on- and offline. This is one of the reasons why having a well-developed website is so critical. It is an investment in the growth and stability of your business.
Here's a look at what it takes to build an enterprise-level website that will allow your business to thrive:
Pricing a Business Website
How much your site will cost depends on its complexity. Common built-on-a-template websites like WordPress-based sites are fairly cheap but provide very limited functionality.
Powerful enterprise-level web development involves building a site from scratch that incorporates features that are custom-built for your specific and unique needs. Custom sites tend to cost a little more.
Here's what you can expect:
R150,000 – R350,000
An entry-level enterprise site that is designed mainly to provide information. It covers core business functions needed and is not particularly complex. The design and functionality highlight the brand's identity.
Examples of this type of site include: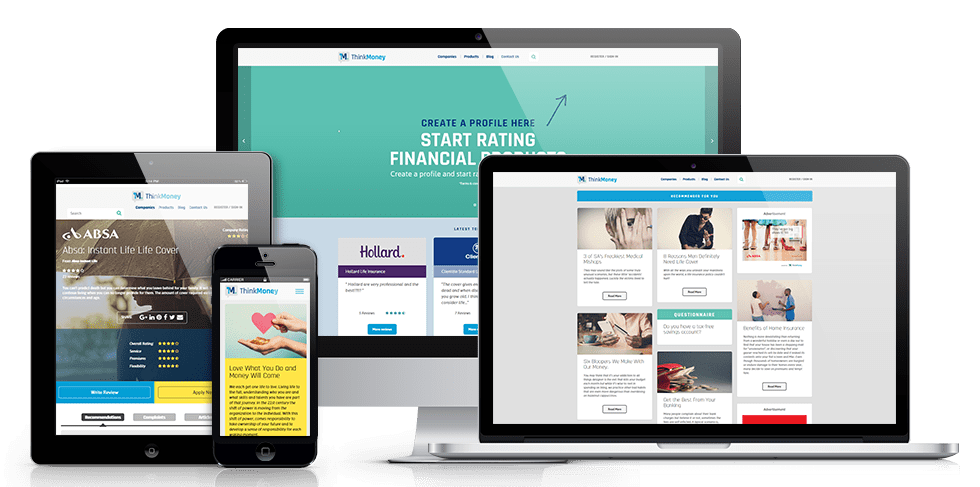 ThinkMoney is about empowering the consumer with relevant financial
content and related offers. ThinkMoney puts the consumer in touch with financial institutions, making sure that their assets (and their futures), are covered.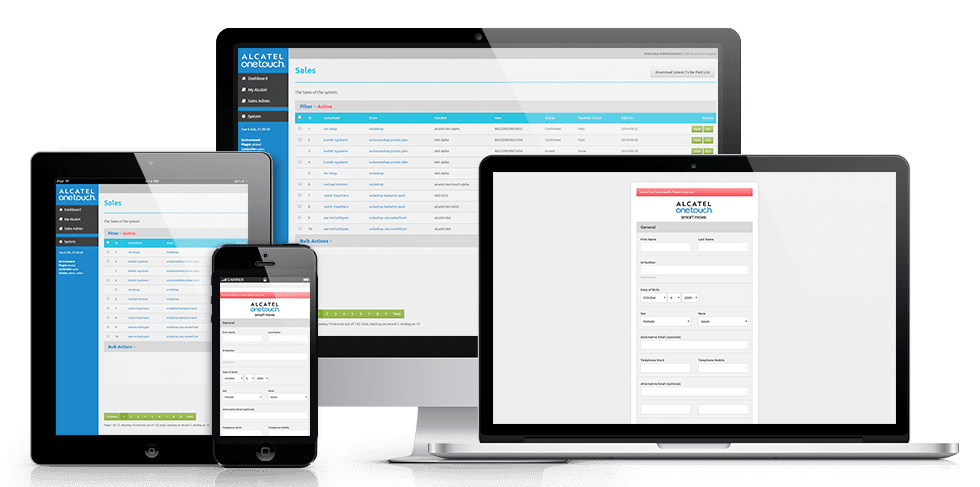 We provided a website where sales consultants in retail stores can log their Alcatel One Touch sales to claim commissions. The site features gamification mechanics to drive engagement and increase sales incentive. The head office can manage the logged sales and link commissions directly to the sales consultant's bank account with minimal admin.
R350,000 – 1,000,000
A mid-level site that contains a couple of pages with sophisticated functionality that includes integration with external systems, such as stock-management. The development of these types of sites involves a high level of technical complexity.
An example of a mid-level site would be: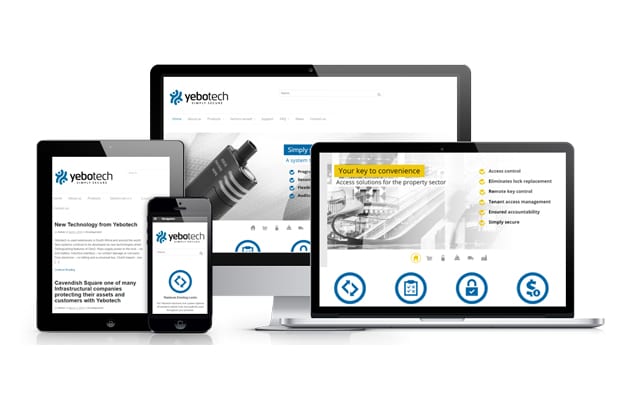 YeboTech is an electronics manufacturing company that markets innovative electronic key and locking systems designed to replace conventional systems. We worked together with them to develop an automated API generator and a fully customizable User Interface.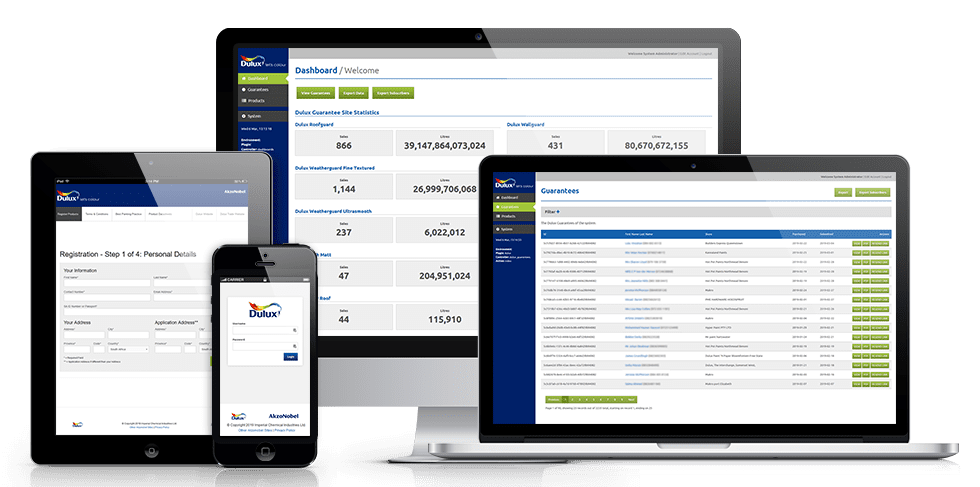 Dulux
The Dulux Guarantee site proudly extends a guarantee from 5 up to 12 years
on a select range of quality products. The system also tracks the number of sales and liters that a guarantee has been registered against, as well as all the capture all the user details for the register.
R1,000,000+
Top-tier sites are large-scale sites that use the latest technologies like artificial intelligence and machine learning that, for example, aids in gather specific customer insights. Sites of this nature are big and extremely complex and require a very high level of development expertise.
Top-tier sites examples: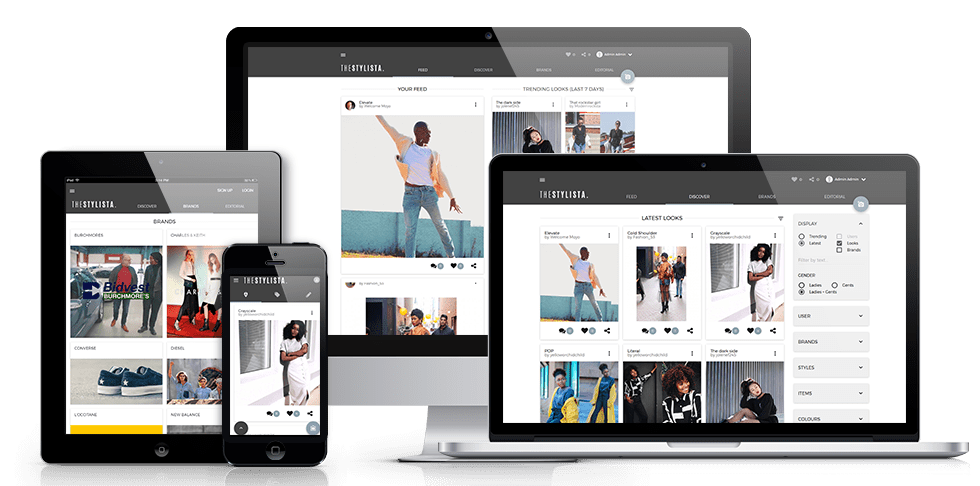 The Stylista is an online, crowd-sourced, fashion and youth culture community. The platform is designed to inspire community members, get them to connect, and share style inspiration. From the style novice to the fashionista, The Stylista site provides a free platform for members to showcase their authentic style, become a source of influence, and set the pace for the African fashion scene.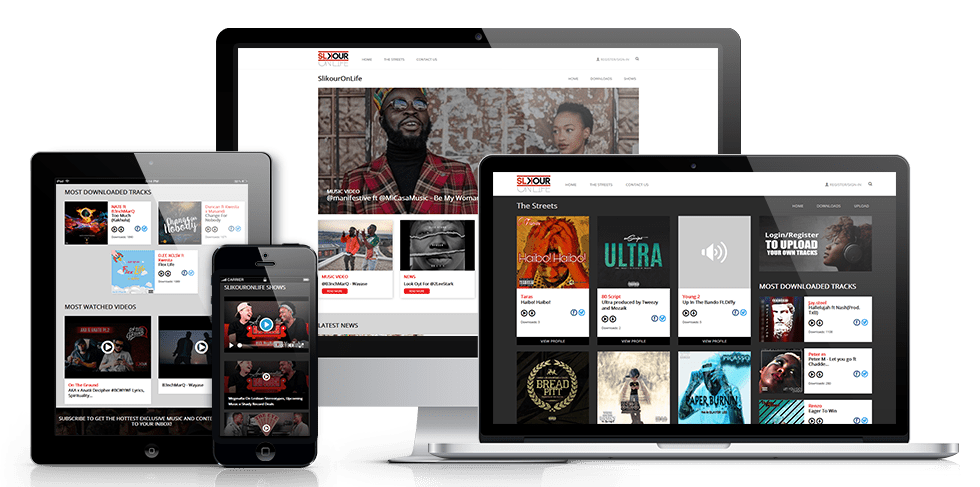 SlikourOnLife is an Urban (hip hop) publication platform that caters to
music fans and music creators. The platform allows creators to upload and share their music with the world. SlikourOnlife also provides the audience with a view of the current urban music landscape by providing artist interviews; exclusive downloads, and event coverage. It also connects brands with influencers and fans, helping both musicians and brands make more revenue.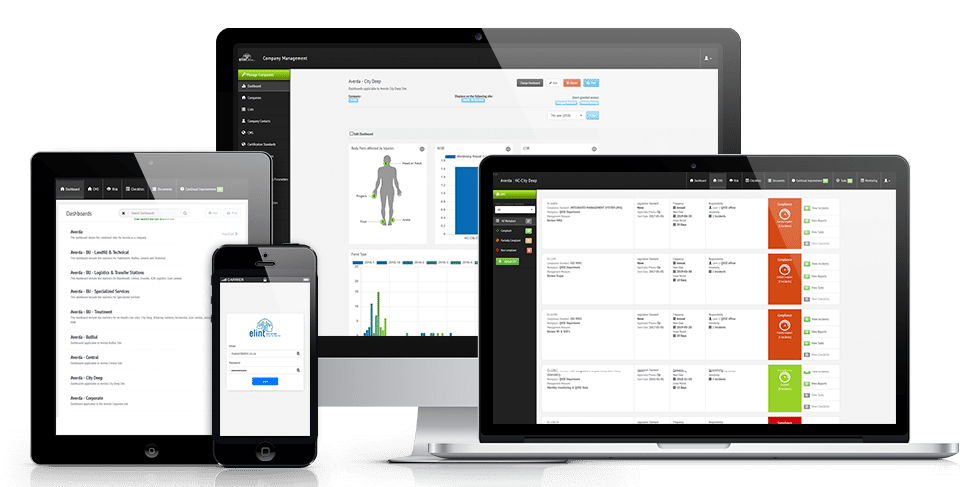 Elint is a compliance management application that allows companies to monitor and manage their compliance with any number of standards. Their specialty is compliance and they partnered with us to manage and maintain their web-based compliance system.
__________________________________
Tech Complexity Determines Development Costs
Hold on! This is a huge variation in price? Let's answer the obvious question of why these websites cost what they do with a simple infographic…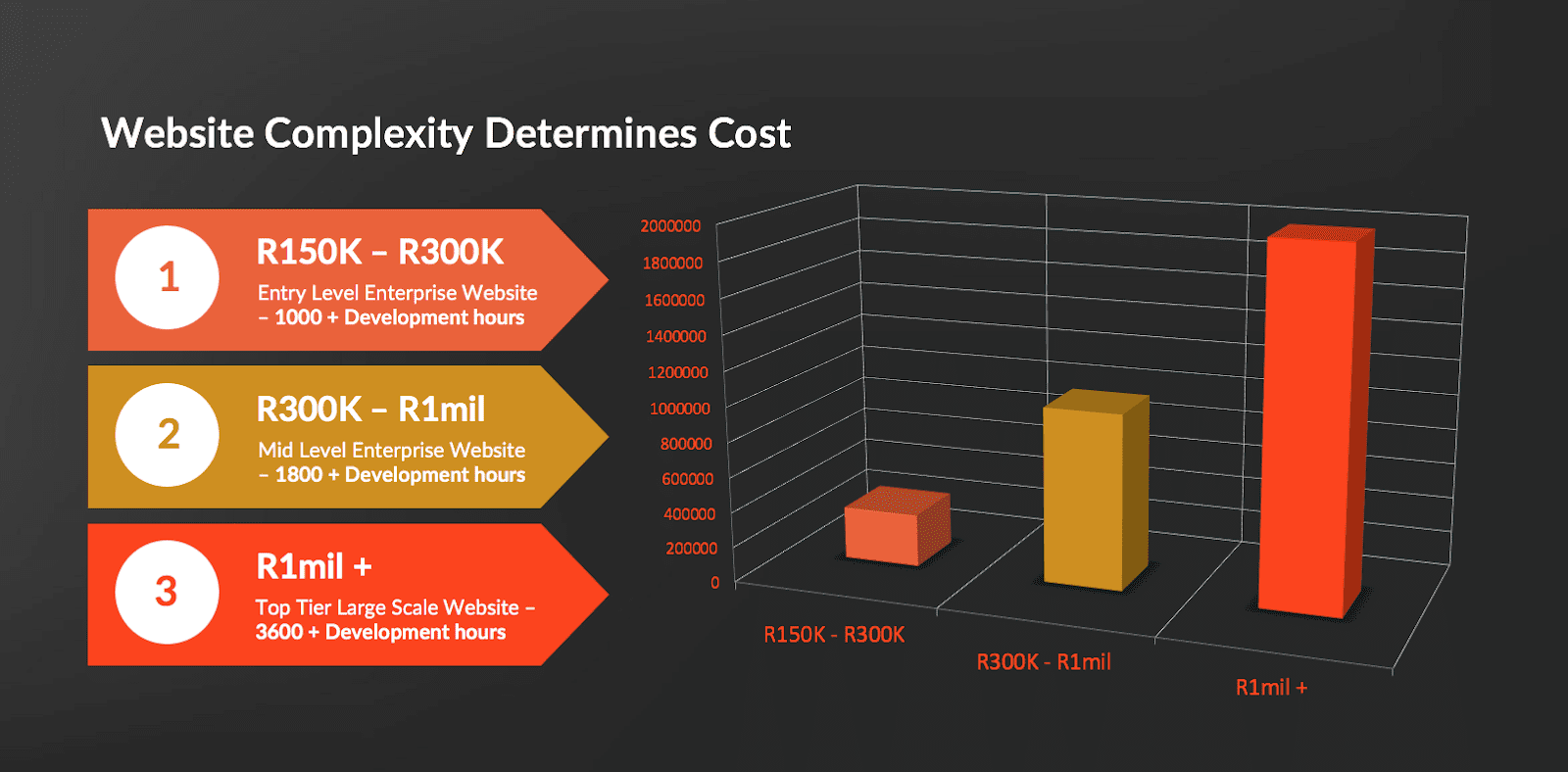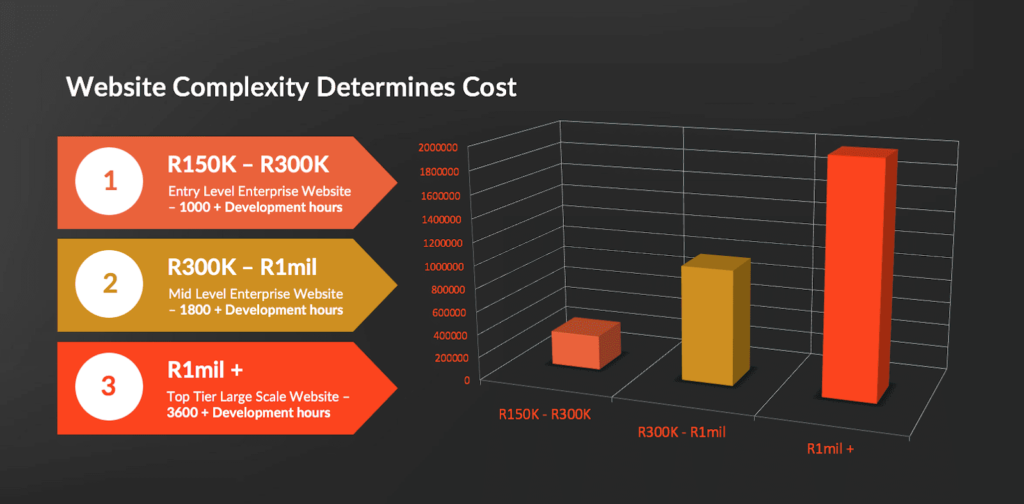 What Web Development Costs Cover
While we don't like peppering people with jargon, there are several industry terms that will help you assess the progress of the development process. They'll also help you understand the competencies that are needed to create a professional enterprise level website. Naturally, all these highly trained professionals need to be adequately compensated for their hours of expertise they'll dedicate to making your project fly.
Software Requirements Specifications (SRS)
This a document with a detailed description of what needs to be developed. It involves the business analyst, development leader (product owner), and sometimes a marketing professional.
Design
It includes wireframes and user experience (UX) and user interface (UI) design. This is handled by the UX/UI designer.
Coding
The actual development part. It includes front-end developers, back-end developers, and other coders.
Environment
This is where the site is being built, like a construction site of a building. DevOps engineers handle the environment.
Quality assurance
Conducted by testers, it involves the testing of the applications, functionality and interface of the site.
Project management
Exactly what it says. The project manager and account manager ensure effective communication between you and the development team to ensure everything stays on track, on time, and on budget.
Timeframe
How long it takes to complete your site. While some sites can be completed in a month, custom websites usually take between 2 – 3 months, depending on the complexity. However, sites that are extremely complex may take a year or more.
Front-End and Back-End Development
Web development is broken down into two components, front-end, and back-end development. The front-end is what the customer sees, it's like the shop front and what it looks like inside, the decor, placement of products, etc., everything that entices customers to purchase products or services. The back-end is all the features that make the shop tick like electricity, cash registers, payment systems, shelves, and any other infrastructure.
Front-end developers and back-end developers use different programming languages, each with its pros and cons. Just like in our shop example, you'd need very different roles in decorating your shop and in laying in the plumbing and electricity. Your web development agency will assess your needs and use the languages that are most suitable for your application.
Scrums, Beta and MVP – The Fast-Track to Launching
One of the best ways to reduce risks and keep costs to a minimum, especially on complex sites, is the use of so-called 'scrum' development, the release of a Minimum Viable Product, or MVP, and beta-testing.
Scrum is a way of project management that sees the team releasing pieces of software for evaluation and review as it becomes available. This breaks the process down into pieces that give you insight into the functionality of your site. It also gives you the opportunity to terminate the work at any time.
The next step is the release of an MVP. An MVP is exactly what the title suggests; a site with enough features in place to make the site usable. This allows developers to spot and squash bugs by actually using the site. This is followed by beta-testing, which tests the site on a select number of users and gives real-world feedback to developers and allows them to iron out the last wrinkles before going live. Beta-testing is usually the final step in the development process.
An Educated Decision
Like a company logo, it is often difficult at first to estimate the value that an enterprise website will add to your business. This makes it hard to determine just how much money to invest in creating an online presence. Understanding the process that goes into the development of a site, allows you to make an educated decision when building this vital part of your business.
Join the conversation
What kind of advanced website project have you dreamt of building? We'd love to hear about it.
Was there anything you feel we didn't fully cover here? Leave a comment below and we'll answer as best we can.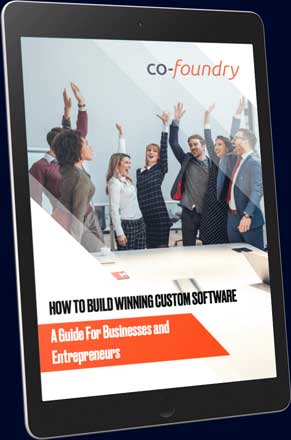 Want Help With Your Software Project?
Get Our Free Ebook: How to Build Winning Custom Software – A Guide For Businesses and Entrepreneurs
By subscribing, you agree to get emails from Co-Foundry. We'll respect your privacy and you can unsubscribe at any time.